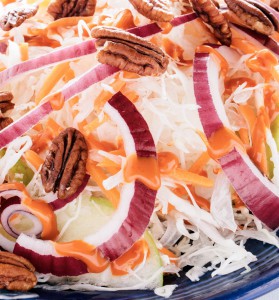 2 oz. Angel Hair Shredded Cabbage
2 oz. John's Famous® Angel Hair Slaw Dressing
1 oz. Shredded Carrot
1/8 of a Granny Smith apple, sliced thin
1 oz. Red Onion, sliced thin
1 oz. Pecans, toasted and chopped
1/8 teaspoon Cayenne pepper (optional)
Place the shredded "Angel Hair" cabbage on a salad plate. Then add the carrots, apples, onions, and lightly sprinkle the cayenne pepper over the salad and then pour the John's Famous® Slaw Dressing on top. Add the pecans and salt & pepper to taste. Enjoy!